WASHINGTON, DC – U.S. Senators Rob Portman (R-OH) and Gary Peters (D-MI), Ranking Member and Chairman of the Homeland Security and Governmental Affairs Committee, and Shelley Moore Capito (R-WV) and Chris Murphy (D-CT), Ranking Member and Chairman of the Appropriations Subcommittee on Homeland Security, recently completed a bipartisan congressional delegation visit to assess resource needs and ongoing humanitarian and security challenges at the Southern Border. The senators joined Secretary of Homeland Security Alejandro Mayorkas to tour several border facilities in El Paso to help inform efforts in Congress to address these ongoing concerns.
"I am deeply troubled by the urgent crisis on our southern border due to the influx of unaccompanied children and Border Patrol's immediate need for increased support and resources. We are still early in the year and not yet in the peak season for migrant travel, thus we are likely to see increases in unaccompanied children which will continue to divert Border Patrol agents from their national security duties patrolling our border. Hundreds of Border Patrol agents are being pulled out of the field to tend to the thousands of children arriving every day," said Senator Portman. "We must address the Biden administration's policies pulling these children to make a treacherous journey. I look forward to working with my bipartisan colleagues to ensure Border Patrol has the resources it needs as this crisis continues. I urge the Biden administration to address this emergency, secure our border, and ensure the safety of the unaccompanied children."
"Today's visit provided an opportunity to see firsthand how the Department of Homeland Security is working to address ongoing challenges at the Southern Border. I appreciated hearing from federal officials, Customs and Border Patrol officials, nonprofit workers, and others on the ground about what more needs to be done to ensure our borders are secure and that unaccompanied children and asylum seekers receive humane treatment and a fair and timely review of their applications," said Senator Peters. "I will continue to work with the Biden Administration and my colleagues to determine how we can best address these continued security and humanitarian challenges and ensure border states, including Michigan, can remain secure and efficient hubs for international commerce."
"The men and women of U.S. Customs and Border Protection, Border Patrol, and Health and Human Services are doing all they can in the midst of this historic, and preventable, humanitarian crisis," said Senator Capito. "Seeing firsthand the challenges we face and the work we need to do was greatly beneficial as we work to craft solutions and make funding decisions. Balancing the humanitarian needs with an unwavering commitment to preventing drugs from being smuggled into places like West Virginia is challenging. Today's visit was a clear reminder that this situation requires urgent action, including increased transparency, policies that deter mass illegal immigration, and a recommitment to securing our nation's borders."
"I went to the southern border with Secretary Mayorkas and a bipartisan group of senators because my constituents – and the overwhelming majority of Americans – want to see our immigration system fixed. Let's be clear: the challenges we face at the border are real, but they are not new. The Trump administration relied on ineffective and inhumane immigration policies, like building a massive wall and separating families. Under their watch, border crossings reached an 11-year high in 2019," said Senator Murphy. "President Biden inherited a broken system, and is trying to fix it in an humane way. I will work with my colleagues in Congress and the White House to reform our immigration system and fund programs that treat families and children humanely and address the root causes of migration."
During the visit, the senators toured the Paso Del Norte Port of Entry operated by U.S. Customs and Border Protection (CBP) where they viewed screening procedures and drug detection efforts. The lawmakers then visited a CBP Central Processing Center where CBP processes asylum seekers – including unaccompanied minors and family units – that have crossed the border. The senators' visit also included a tour of CHS Trail House, a state-licensed facility contracted by the U.S. Department of Health and Human Services (HHS) Office of Refugee Resettlement, which provides care to unaccompanied minors while they wait to be placed with a sponsor.
To download high-resolution photos from the visit, click on the images below. Images are courtesy of the Department of Homeland Security, credit: Benjamin Applebaum.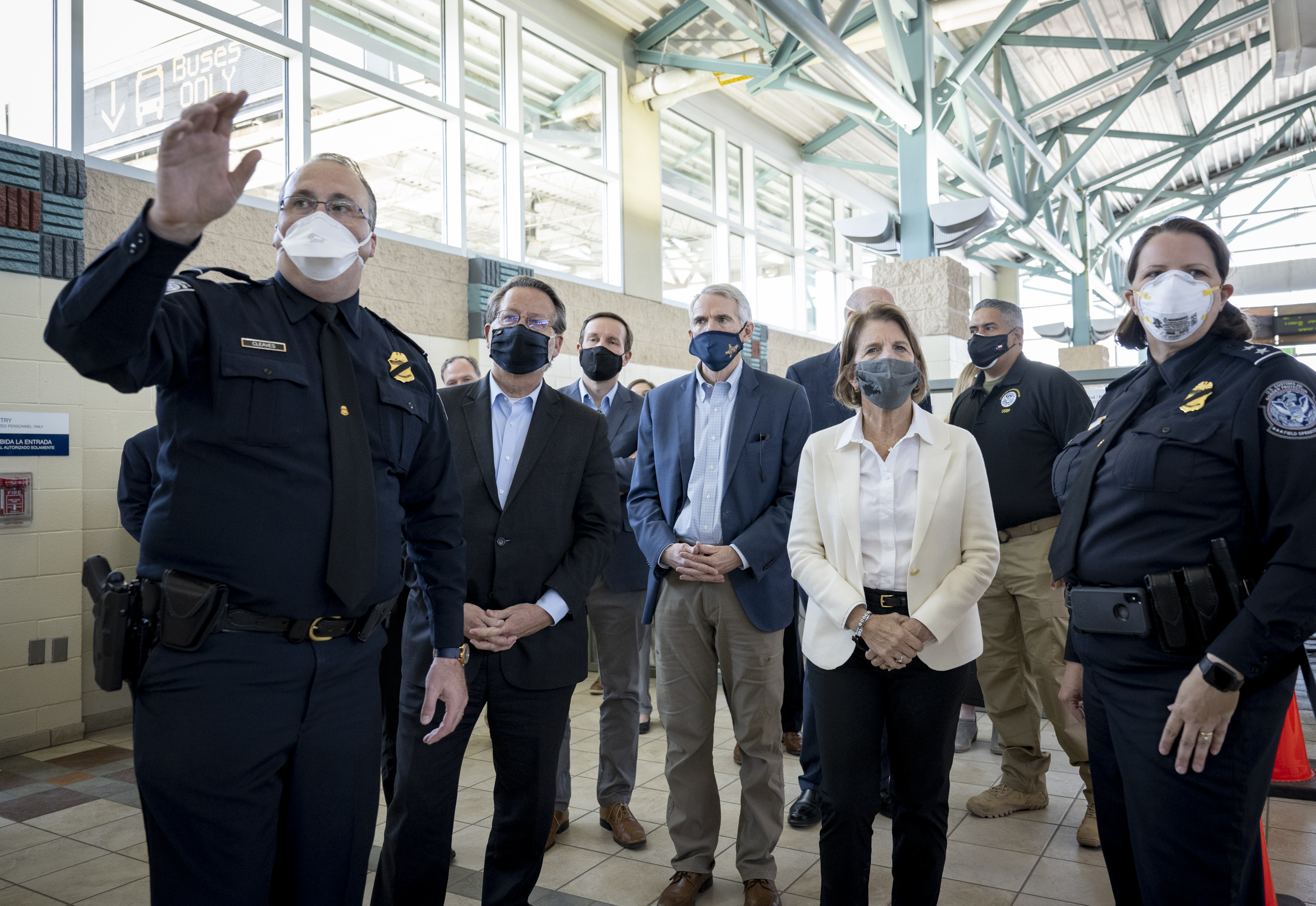 ###