WASHINGTON — Sen. Ron Johnson (R-Wis.), chairman of the Senate Homeland Security and Governmental Affairs Committee, said he was dismayed but not surprised at the announcement that the U.S. Department of Health and Human Services (HHS) planned to nearly double the size of its current bed space to make room for the unaccompanied children being referred to the agency by the U.S. Customs and Border Protection (CBP).
This week, HHS announced its plans to increase the use of temporary shelters to create space for up to an additional 6,400 beds. This is in addition to HHS' increase in bed space from 7,900 beds to 8,400 beds in November.
The announcement came the week after new figures from the Department of Homeland Security showed that apprehensions of unaccompanied children from three Central American countries illegally entering the United States have been trending upward after a long fall from the peak levels reached during the crisis in 2014.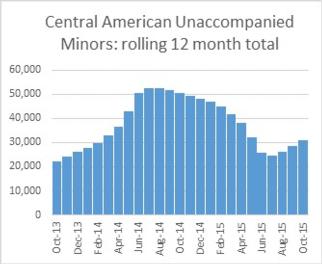 Johnson said this in response to the news:
"In 2014, we witnessed a humanitarian crisis, as more than 51,000 unaccompanied minors from Central America, and almost as many families, came across the U.S.-Mexico border. As chairman of the Homeland Security and Governmental Affairs Committee, I have closely examined both the pull and push factors for this migration and the government's response to the crisis last year. I have also emphasized how the crisis was far from over as we had not addressed the root cause incentives for unlawful migration.
"Based on the DHS apprehension numbers and HHS' requests for space to house apprehended minors, it is obvious that the crisis is not over. It is unconscionable that our policy should give desperate parents an incentive to put their children through the incredible dangers of a trip to the U.S. border for an illegal crossing. During a recent meeting, the president of Honduras asked our visiting congressional delegation to end the ambiguity in our laws that creates this incentive. Congress should act swiftly to end the incentives that encourage parents to subject children to this terrible journey."
###