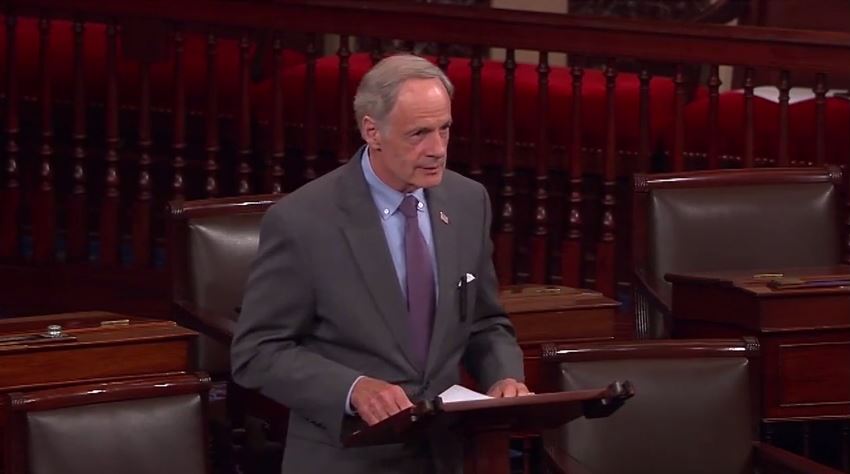 WASHINGTON – Today, Sen. Tom Carper (D-Del.), ranking member of the Senate Committee on Homeland Security and Governmental Affairs, released the following statement after the Senate voted to confirm the nomination of Vice Adm. Peter Neffenger to be the Administrator of the Transportation Security Administration (TSA) by a vote of 81 to 1:
"I'm proud to support the confirmation of Adm. Neffenger to lead the Transportation Security Administration as its Administrator, an enormously important role. After decades of service to our nation with the U.S. Coast Guard, Adm. Neffenger has the exceptional leadership skills, experience, and expertise necessary to navigate TSA's critical mission and competing demands to conduct screening swiftly and flawlessly. He has shown the willingness to take on a difficult and demanding job as Administrator, and an unequivocal commitment to confront the challenges facing TSA today. Adm. Neffenger is a steadfast public servant, and a man of character and integrity. I know that he will continue to strive for perfection in every effort he undertakes at TSA. I thank my colleagues in the Senate for working together in an expeditious, bipartisan manner to get his nomination across the finish line. I congratulate Adm. Neffenger on his confirmation."
Vice Adm. Peter Neffenger served as Vice Commandant of the U.S. Coast Guard since May 2014. Commissioned in 1982 through Coast Guard Officer Candidate School, he has served in a number of positions, including Deputy Commandant for Operations, Director of Strategic Management and Doctrine, Deputy National Incident Commander for the Deepwater Horizon oil spill, and Commander of the Ninth Coast Guard District.
Shortly before the vote, Sen. Carper spoke on the Senate floor in support of Adm. Neffenger's nomination. To watch his floor speech, click here. His remarks, as prepared for delivery, are below:
"Mr. President—I rise today to speak in strong support of the nomination of Vice Admiral Peter Neffenger to serve as the Administrator of the Transportation Security Administration (TSA).
"The women and men of TSA work in a very challenging environment to keep our aviation system – and those of us who use it – safe and secure. Their mission is made all the more challenging by the two difficult and diametrically opposed tasks that we ask them to perform.
"On one hand, we ask TSA to screen 1.8 million passengers and their luggage every day without allowing a single dangerous individual or item through. On the other, we ask TSA to perform the screening as fast as possible so that travelers do not miss their flights and luggage and cargo gets to its destination on time.
"TSA's job is a thankless one for which the agency and its employees are rarely commended but often criticized.
"Can TSA do a better job? You bet they can.
"A couple of weeks ago in the Homeland Security and Governmental Affairs Committee, for example, we heard from the Department of Homeland Security's Inspector General (IG) about several troubling security vulnerabilities at our airports. The IG's findings were more than troubling – they were unacceptable. TSA can and must do better. But it is not all on them, we can help. And one of the ways we can help is by voting in support of the President's nominee for TSA Administrator – Admiral Peter Neffenger.
"Admiral Neffenger has served as a commissioned officer in the Coast Guard since 1982, assuming the position of Vice Commandant in May 2014. Throughout his nearly 34 year career in the United States Coast Guard, Admiral Neffenger has displayed exceptional leadership skills and the will to confront big challenges. These qualities will be very important if he is confirmed – and I hope he will be – as the next TSA Administrator.
"Let me just share with you a few things that I learned about the Admiral during the nomination process.
"First, Admiral Neffenger has a clear vision for TSA. He said the agency must strive to be an intelligence driven, risk-based, counterterrorism agency. Second, he has acknowledged the difficult challenges facing TSA today. But more importantly, he is committed to addressing them head-on and striving for perfection. Finally, I learned that he is committed to working with Congress, the Inspector General, GAO, and stakeholders to improve TSA.
"But you don't have to take my word for it, Admiral Neffenger has received the support of all three former Secretaries of Homeland Security. Here is what the former Secretary of DHS, Tom Ridge, wrote about Admiral Neffenger. He said, the nominee's 'experience is broad, his reputation superb, and his commitment to public service profound and unquestionable.' After meeting with and getting to know Admiral Neffenger, I couldn't agree more.
"I would like to thank Chairman Thune and Ranking Member Nelson of the Commerce Committee for working closely with our Committee to advance Admiral Neffenger's nomination. I would also like to thank Chairman Johnson and his staff for swiftly acting on the nomination so that it could be considered by the Senate today.
"In less than two weeks, we will celebrate the 239th anniversary of our nation's independence. On the days surrounding that celebration, millions of Americans will be traveling to spend time with family and friends. We owe it to each of them to have a permanent, Senate-confirmed TSA Administrator in place.
"I urge my colleagues to join me in voting today for Peter Neffenger. Thank you, Mr. President."
###