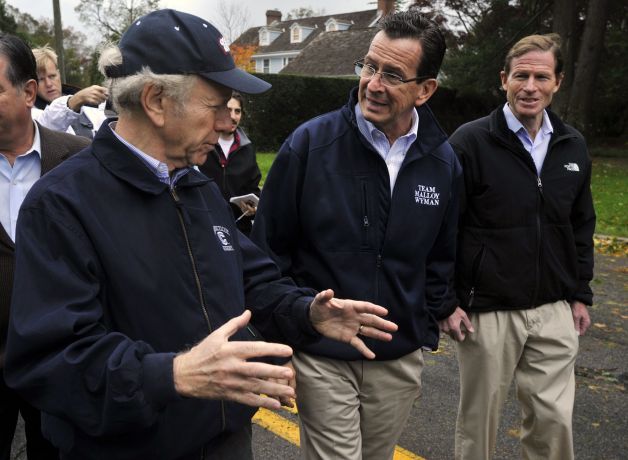 STAMFORD, Conn. – Homeland Security and Governmental Affairs Committee Chairman Joe Lieberman, ID-Conn., Tuesday toured Connecticut coastal areas hit hard by Hurricane Sandy and consulted by telephone with Homeland Security Secretary Janet Napolitano and other federal officials about ongoing response and recovery plans.
Lieberman commended the coordinated work of federal, state, and local emergency management officials for planning in advance of the monster storm, as well as for their response and recovery operations.
"I offer my condolences to the families and friends of those killed because of this awful storm and appreciate the difficulties of those who lost power or suffered property damage," Lieberman said. "I also want to thank federal, state, and local emergency managers and first responders who selflessly worked throughout the past several days to minimize the storm's effect.
"Despite the enormous challenge posed by this unprecedented storm, FEMA and its state and local partners rose to the challenge, saved lives, and worked to minimize damage. They deserve our thanks and praise, even as we recognize that much work lies ahead to assess damage and respond to this storm.
"I'm also grateful for the men and women of the Coast Guard, who continue to put their lives at risk for all of us, when disasters strike.
"Since Hurricane Katrina, FEMA and state and locals emergency managers have vastly improved their capabilities to deal with disasters, just as Congress intended when it enacted a new, much stronger FEMA and general emergency management retooling in 2006. That law, for example, gave FEMA expanded authority to take important preparatory measures in advance of disasters, which helped to mitigate the impact of Sandy.
"I'm proud that this critical legislation originated in the Committee that I have been fortunate to chair for the past six years and know that precautions taken ahead of time – such as early repositioning of supplies and resources, evacuations, and sandbagging – helped to contain the damage and remind us of the wisdom of advance planning for catastrophes."
-30-